We are announcing that a special exhibition of group IX with the award of CAC (specialty show IX group with cac) will be held July 30rd in Split.
Location and date: 30.07.2022 SPLIT
Organizer: Bichon Klub Zagreb
Show place: Park mladeži. Hrvatske mornarice 10; 21 000 Split Hrvatska
ONLINE ENTRIES: https://app.hks.hr/
INFORMATION: special.show.bichon@gmail.com
ONLINE DOG SHOWS.EU: https://www.onlinedogshows.eu/en/
DOGLLE: https://www.doglle.com/
Bichon Club form application
Judges: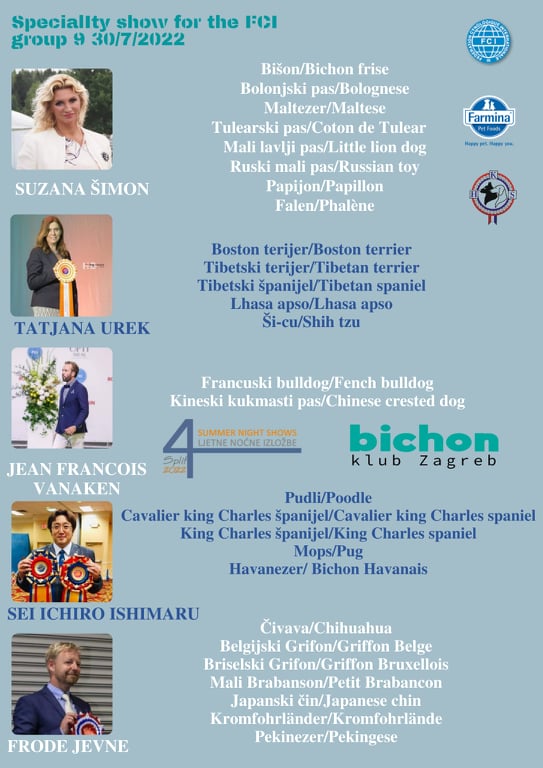 Programe:
| | |
| --- | --- |
| ENTERING OF DOGS | 22:00 h |
| OPENING OF THE SHOW | 22:45 h |
| JUDGING IN RINGS | 23:00 h |
| BEST IN SHOW | 01:00 h |
IMPORTANT:
Only dogs with the valid FCI pedigrees can be entered to the show. Dogs which have been neutered, sick dogs as well as females in heat are excluded from the show. Dogs should be vaccinated against rabies and should have an international health certificate otherwise they will not be allowed to approach the show premises.
ENTRY FEE
FOR FOREIGNERS IN EURO UNTIL
01.07.2022.
FOR FOREIGNERS IN EURO AFTER
01.07.2022.
FIRST DOG (with catalogue)
35,00€
40,00€
ADDITIONAL DOGS (without catalogue)
30,00€
35,00€
BABY , PUPPY , VETERAN
15,00€
20,00€
BRACES , BREEDER'S GROUP
10,00€
15,00€
JUNIOR & SENIOR HANDLING

10,00€
15,00€
PAYMENT FOR FOREIGNERS:
ACCOUNT HOLDER:BICHON CLUB
IBAN: HR9624020061100544489
swift: ESBC HR22
ENTRIES WITHOUT PAYMENT WILL NOT BE ACCEPTED!